It has never been easier to foster inclusiveness in the workplace. In an inclusive environment, everyone can contribute while feeling seen, listened to, valued, empowered, trusted and safe to raise their voice
At INLEAD, we believe you can only harvest the benefits of a diverse workforce in a strongly inclusive environment. Pioneers in the field of inclusive leadership development since 2015, we launched our innovative e-learning series on diversity and inclusion on 1 September 2021.
The benefits of diversity (heterogeneity) at work have been demonstrated in many studies. It is increasingly relevant due to the complex challenges of a globalised economy and the increasing age of the population, intensifying the shortage of skilled workers (the war for talent). In addition, there is the pressure on organisations to modernise their culture, reduce discrimination and offer fair opportunities to all, under the watchful eye of the authorities and the general public. Mastering these challenges requires leaders to foster inclusion within their organisations.
What makes our e-learning package unique?
We have designed our courses especially for line and people managers. Our e-learning package helps activate diversity, and foster equality, equity and inclusion in an effective, practical and cost-efficient way.
Why e-learning?
Inclusiveness is a prerequisite for managing diversity in teams and activating its potential arising.
Our e-learning solution will enable managers to:
build awareness across the whole organisation in a cost-effective way, not bound by time or location, while developing a shared language around this complex topic.
develop inclusive leadership practices efficiently, in combination with conventional development measures (training, coaching or learning circles).
generate inclusion competence and foster inclusiveness in their teams, whilst optimising the time required for training.
About the e-learning series
The INLEAD e-learning series consists of three modules. In terms of content, they are based on INLEAD's long experience in promoting inclusive leadership in Switzerland as well as on scientific studies. Professor Gudrun Sander from the Competence Centre for Diversity and Inclusion (CCDI) of the University of St. Gallen (HSG) provided expertise in one of the modules.
Although they can be used as a standalone solution, they build on each other. Working through all three in combination with conventional leadership development training or coaching is the most effective method for top results.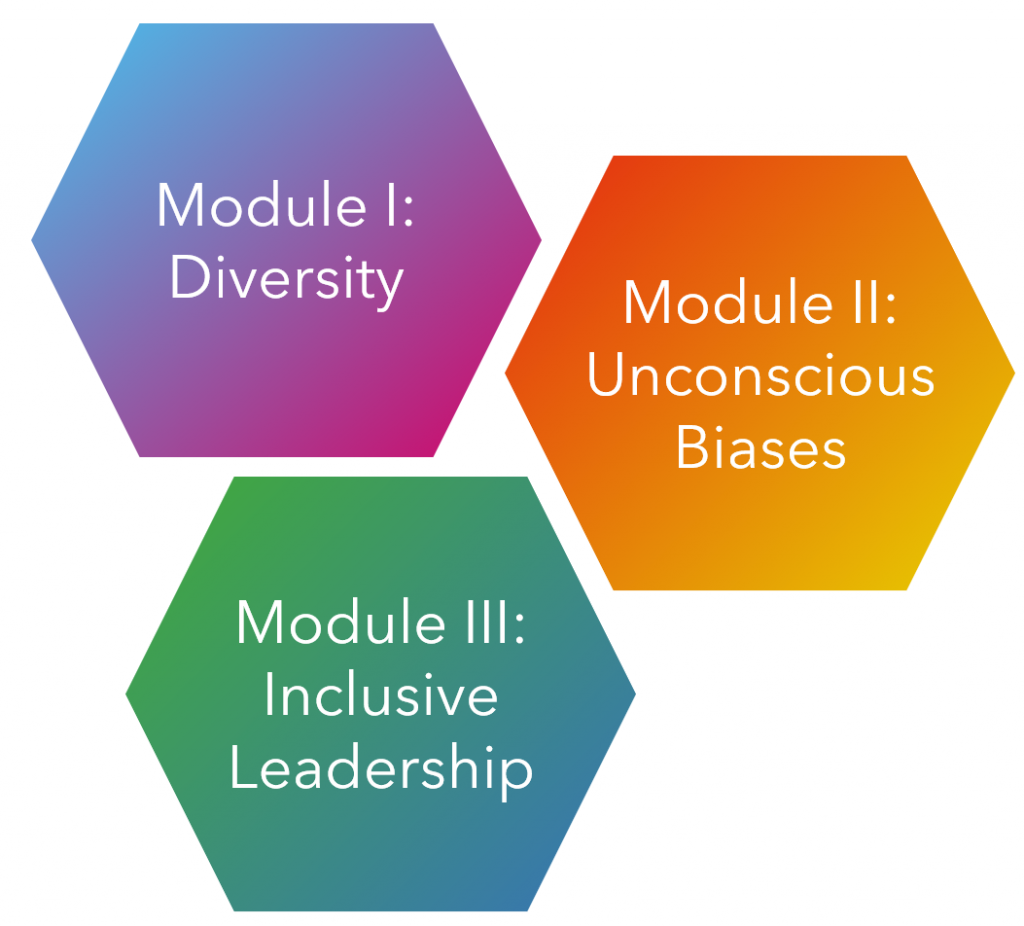 Module 1 – Diversity
In this module, after learning about the different kinds of diversity, you'll develop your understanding and knowledge of diversity (diversity intelligence), and the benefits of a diverse workforce – for the business and, ultimately, for your team working toward your objectives.
Module 2 – Unconscious Biases
In this module, beyond learning what unconscious biases are, you'll find out how they impact your judgment and how to limit their impact on the quality and adequacy of your decisions.
Module 3 – Inclusive Leadership
In this module, beyond learning what inclusion and inclusive leadership are, you'll find out how to identify and leverage the diversity in your own team.
---
Each module is designed to ensure a high level of transfer into daily leadership practices. The series is packed with situations and practical actions to foster inclusion in the workplace.
Accessing the e-learning series
If you have an access code, use it with the access URL you've received.
If you don't have an access code, but wish to know more about our e-learning series, please get in touch.
(Please note that all requests are subject to review and approval by INLEAD. INLEAD reserves the right to decline requests, without any obligation to explain the decision.)